There are no permanent enemies in politics and who better than Nitish Kumar knows this. If one captures the political life of Nitish Kumar in a script, it will be befitting popular Netflix series House of Cards. In the lime light again, as he broke off ties with the Bharatiya Janata Party once again to form an alliance with his political opponent turned friend turned opponent turned friend Lalu Prasad Yadav's Rashtriya Janata Dal, paving the way for the 'Mahagathbandh' and being sworn in for the 8th time as Chief Minister of Bihar in last 20 years.
It won't be the first or even the last somersault for Nitish Kumar as he has been trapesing between the allies without letting go the Chief Minister's chair. In Bihar, the national party Bhartiya Janta Party (BJP) had been sharing power with Janta Dal United (JDU) since 2005, but things had taken a different turn when Nitish Kumar broke the alliance and formed a Grand Alliance with few opposition parties. Taking responsibilty for the big loss in 2014, he made Jitan Ram Manjhi the CM, only to remove him and become CM again. In 2015, he contested as the CM candidate of the Mahagathbandhan, along with the RJD and the Congress, only to switch sides, dump Grand Alliance, and make peace with BJP and get them as part of his government. Now, he has ditched the NDA again. The question on Nitish Kumar's political move and his moral authority have been debated upon in the past. His move to regroup with RJD dumping BJP (and the NDA) not only teaches a lesson or two to the politically puerile Opposition but also for the PR counselors and communicators.
Here are the 5 key lessons:
1. Stick to your Narratives
Nitish Kumar initially did not have the natural captive constituency of Lalu Prasad Yadav, but over the years, he built massive pan-Bihar social support riding on the agenda of Good Governance and Development. This narrative was further sustained when it was tied to probity and 'zero tolerance' to corruption and crime. Over the years, despite being a head of a regional Bihar-based party, Nitish Kumar continued to have a national recall due to his clean and no-nonsense image. So, when Nitish Kumar broke away from the Grand Alliance raising issue of corruption by his partner, he was cementing his image as a leader who believes in Good Governance. Now dumping the NDA for the second time in five years, he has again made his point that he rules Bihar with an iron hand and will not allow any other claimant for power. Any shrewd reader of politics would respect Nitish Kumar purely because he has managed perception and to stick to his narrative of being in power. The frequent flipflops and changing partners — may have diminished Nitish's branding as the 'Sushasan'  leader, but his political acumen to do the impossible has certainly not diminished.
Lessons for PR: 
"Narrative is the dirt path that leads us through the impenetrable forest, so we move forward and don't feel lost," journalist Wade Rawlins said. Set a narrative for the brand's story and stick to it to get an emotive response from the stakeholder. Today's audiences crave context and communicators can derive more power for their brands by relating their messaging to the bigger issues.
2.  Plan for long term benefits
Nitish Kumar, though leading a regional party, always had national dreams. He saw them getting cut-short when his coalition partner, BJP, made Narendra Modi (whose style of politics he opposed) as the election campaign chief in 2013. He broke his alliance with BJP in Bihar but could not stop the Modi wave in India. Subsequently, Nitish Kumar, as the face of a Grand Alliance (Mahagathbandhan with Congress and Lalu Prasad Yadav led RJD,) stopped the Modi juggernaut in Bihar. With this, he kept himself relevant and his national dreams intact.
When the issue of corruption started shaking the very pillar of Nitish Kumar's image (Suhsashan) as a provider of clean and good governance, he returned to his old partner NDA, keeping in view his long-term goals. His statement, "Anyone can emerge as a candidate for the top post if he or she has a capacity for it," clearly indicates his national ambitions. Now again his leaving NDA to form a government with old ally RJD in 2022 goes on to show that Nitish Kumar still holds relevance as a grass root leader in the politics of Bihar and nationally to relaunch his career as a prime ministerial aspirant.

Image Courtesy: News18
Lessons for PR:

While working on a reputation strategy, the company's course of planning, action and investing must focus on its mission statement and fulfilling its long-term goal. Don't move away from the core message to gain short term attention.
3. Keep your options open. Don't be afraid to take risks
In 2013, Nitish Kumar dumped his ally BJP on the issue of Narendra Modi being made the campaign head because he knew he could still win the vote of confidence and retain his government with backing from Congress. For the 2015 Bihar assembly elections, Nitish Kumar joined hands with arch-rival Lalu Prasad Yadav's RJD and the Congress to defeat the BJP.
Realizing that there is no future in a Congress-led Opposition or in the company of Lalu Prasad and his corruption-tainted family, Nitish Kumar kept his options open with a friendly center (led by Modi.) But pushed to the wall and seeing his strength depleting playing younger brother, Nitish Kumar dumped the Modi-Shah led NDA paving the way for his return of the Mahagathbandhan government in Bihar under his stewardship once again with RJD.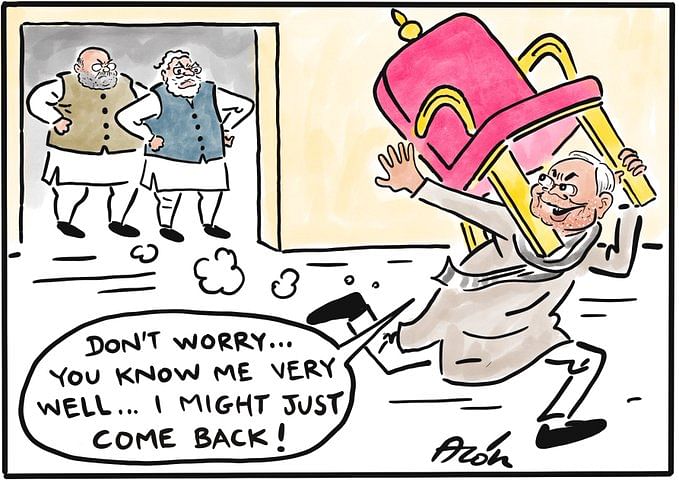 Lessons for PR:

Accept changes in the industry and be willing to learn all the time. Especially, when it seems as though you know nothing. Don't do things the way you always do them. Aiming for something different can be more effective.
4. Be open to course-correction.
After his party JD(U) suffered a rout in the 2014 general elections, Nitish Kumar resigned as Bihar CM accepting moral responsibility for the defeat. He brought Jitan Ram Majhi as the CM, only to come back few months later, when he realized he was being sidelined. In 2015, Nitish Kumar ignored the corruption cases against Lalu Prasad Yadav and chose the "secular" plank to form the coalition government in Bihar. But when the issue of corruption and non-tolerance reached his office, he did a course-correction and went back to his old ally NDA. By reaching out to a stronger and stable NDA and PM Modi, he managed to give a message to the opposition that he has options open. But differences between him and the BJP got sharper, more so after his party JD(U) was reduced to 43 MLAs against the BJP's 74 in the 2020 assembly elections besides the all time low in his popularity considerably in Bihar during the last few years.
Now by pulling away from NDA to again form the givernment with RJD, the sultan of swings Nitish Kumar has again managed to get his way.
 Lessons for PR:

Change is inevitable. While it's important to understand your audiences and engaging with them, assess whether the chosen strategies are having the impact predicted and develop corrective actions as needed. Communicators need to regularly conduct a brief review of the vision, values and purpose and plan and deploy content campaigns with real-time insights and predictive methods.
5. Do your Homework
If earlier the speed at which Nitish Kumar shifted from the Grand Alliance, resigning as the CM and then forming a government with the BJP in barely 14 hours, had left people surprised, the currrent move of dumping NDA to come back with RJD, was not much of a big surprise. Known for his good goverance 'sushasan' (good governance),  he worked on Bihar's notorious law and order situation while improving infrastructure (roads & electricity) and focussing on educational institutions. Earlier to join hands with NDA, Nitish Kumar had done his homework right from praising PM Modi for demonetisation, rejecting the stand taken by Mahagathabandhan allies (RJD and Congress) on the September 2016 surgical strikes and openly backing the NDA led Presidential candidate. He had even invited PM Modi for the 350th birth anniversary of Guru Gobind Singh in Patna and was praised by Modi for his prohibition policy. And now fearing the BJP's open challenge to crush the regional parties and the way BJP managed the recent Maharastra coup, and with a strong national political ambition, Nitish Kumar connected with senior Congress leader Sonia Gandhi and pursuaded her to help patch-up along with the Lalu Yadav family.
Lessons for PR:

Invest time in planning a reputation framework, doing your research, identifying stakeholders and reaching out to them regularly, keeping a long-term view in mind.
(all images courtesy Google search. The article was first publshed in Aug 2017 after Nitish Kumar's decision to switch from the Grand Alliance to the NDA. Edited to make relevant for current politcal scenario). Cover Image Courtesy: Satish Upadhyay
Anup Sharma (@TweetsAnup)