As villages, cities across the country slowly open up after the lock-down because of the Covid-19 pandemic, it exposes the big holes in local supply chains and in how governments access people across dense urban clusters and remote village areas.
Incidentally, as it often happens in emergencies, it also uncovered our ingenuity in finding new and useful applications for available things and technologies. Like, how we use unmanned aerial vehicles (UAV), commonly called drones.
Pictures and news reports from the world over showed authorities putting drones to a variety of uses while tackling the Covid-19 pandemic. They were used for surveillance and monitoring during lockdowns, for broadcasting important messages, for tracking down violators of restrictions, for decontamination of hotspots, for delivery of medicines and some essential items…The list could go on.
Designed to spread fertiliser, agricultural drones were repurposed to spray disinfectant across public areas, besides deliver groceries to remote island communities. Drones were used by the Bruhat Bengaluru Mahanagara Palike (BBMP) to spray disinfectant across the city. The Nagaland government used drones to spread awareness on COVID-19. The Raipur police used camera fitted drones to monitor the lockdown and the law & order situation.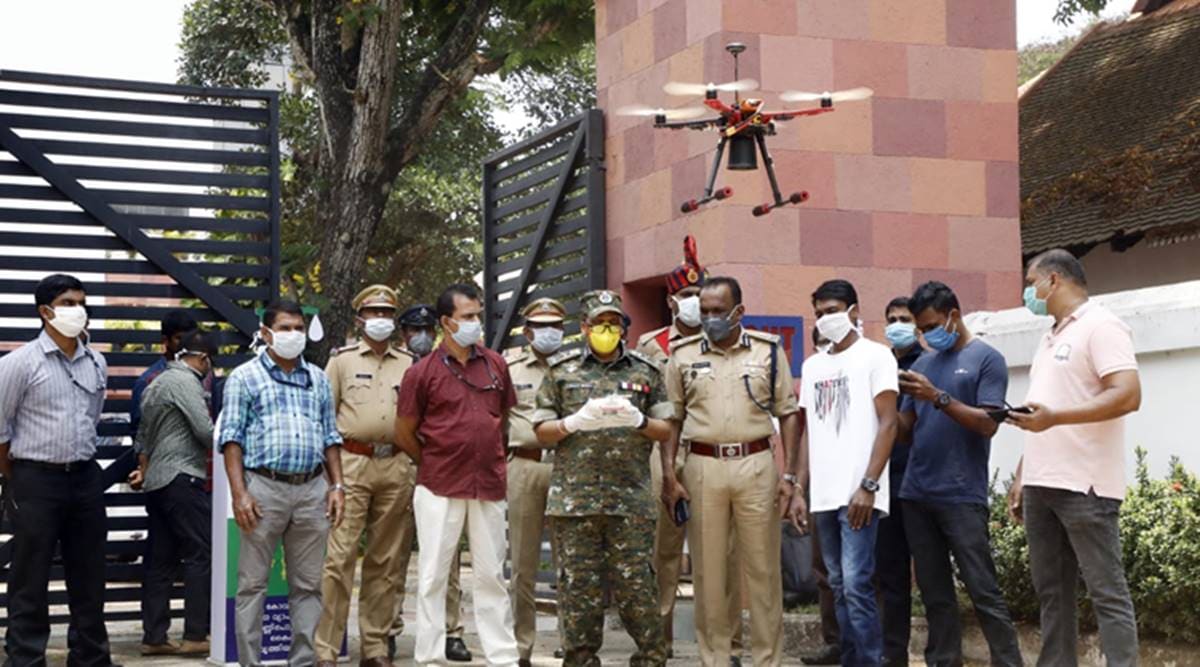 Drones have become ideal in these situations because of their capabilities for Vertical Takeoff and Landing Capability (VTOL), and Beyond Visual Line of Sight (BVLOS. They are cost-effective, portable, and – in extreme emergencies – provide the first take, including visuals, assessment and extent of damage. Emergency services are increasingly seeing the real benefit and value for money from the investment in this drone technology. Timing is critical during emergency and technology is key to respond during these situations.
We have used UAVs in emergencies in the past. While dealing with the Pakistan-sponsored terror attack in Mumbai(2008), avalanche in northern Siachen (2016), Bandipur forest fires (2019), Bihar floods (2019) and the Pulwama attack (2019) – to name a few – drones were deployed. And they played a huge role in deciding the outcome.
But this is the first time the scope for such deployment has been so expanded. This brings us to the crucial question: Is our drone policy in tune with the emerging scenario?
Looking ahead: cobotic responses
We primarily use drones only for surveillance and reconnaissance. India first used military grade drones during the Kargil War in 1999. Since then there have been several developments, including the development of indigenous drones by the Defense Research and Development Organization (DRDO), Drone Regulations 1.0 and the recently unveiled Drone Regulations 2.0.
Going forward, drones could be integrated into emergency response mechanisms called "cobotic responses". These are responses in which humans cooperate with robots (effectively drones are robots). This could be the future, and even the new normal, and may even open up several possibilities. Imagine being able to go to the site of a nuclear accident like that in Fukushima with a drone capable of detection and resolution.
This is not a hypothetical situation. Right now, a Chennai-based company is using drones to disinfect areas specified by the Chhattisgarh government; police in Spain and in some Indian states are using drones with attached sirens and loudspeakers to warn residents to stay home; China used drones for transporting medical equipment to contagious areas with minimal risk. What once seemed an exception is fast becoming the usual.
A report by Goldman Sachs projected that the market for drones will exceed USD 20bn with a revenue potential of USD 13bn. The Indian market is estimated to be just below USD 1 bn. Drones will inevitably become a part of emergency services – in policing, protection and prevention.
We didn't even a few months ago foresee the present situation where flight and train services are completely down and emergency services are hit across large tracts of land. Next time we should be more future-prepared. Drones can be part of that solution.
Co-Authored by Satyendra Pandey, a former Head of Strategy & Planning at Go Air and Independent Aviation Consultant &
Anup Sharma is Convenor ATFI (Aviation Technology Forum of India) and Strategic Communication Advisor
Anup Sharma (@TweetsAnup)